About
James Pickering is a Film Composer, Songwriter and Music Producer.  
Mark Kermode described his 2020 score to Henry Blake's twice BAFTA nominated 'County Lines' as "Majestic!". His score was released on Lakeshore Records.  
Shortly after moving to London in his early twenties, and influenced by bands like The Flaming Lips, Mercury Rev, UNKLE, Radiohead, DJ Shadow and Spiritualized, touring with the latter, James's band were signed to BMG Publishing and Manchester Indie label Faith & Hope.  
After the band ran its course, James decided to build on his untapped composition interests. On the strength of some contemporary pieces he'd scored but not previously shown anyone, James received private tuition in composition from a professor at the Guildhall.  
Using his fairly mixed musical education, James often blends sampled/found sounds with synths and acoustic instruments.  
James can often be seen around East Kent, sampling the environment and creating his own instruments from the sounds.     
The Fake Arts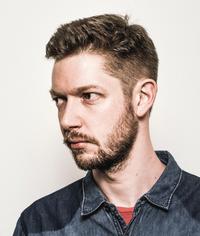 The Fake Arts - A project to release music